Journal Entry:
Fri Oct 10, 2014, 5:49 AM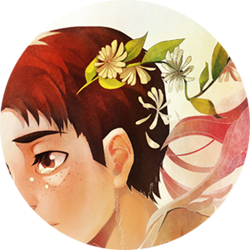 /suavely slides into the seat next to you/ hello we meet again

Now i seriously hope photobucket wont give me anymore shit like suddenly deciding to make people pay for the storage space that was CLEARLY free for like, YEARS. That was kinda why i stalled posting my Canada trip photos here..maybe i'll make a journal about that next month..?
so yea, i was at Tokyo Game Show last month with 2 of my ex-colleagues. we had 2 business days there, 1 public day (for fun), and 3 extra days free and easy to roam around Tokyo..!!

I WILL NEVER TIRE OF TOKYO so, i jumped at the chance to enter TGS for free! i didn't bring enough money to buy all the things i wanted in all the anime shops, but AS LONG AS THERE'S A NEXT TIME THERE ARE NO REGRETS.
LETS GO
Tokyo game show journey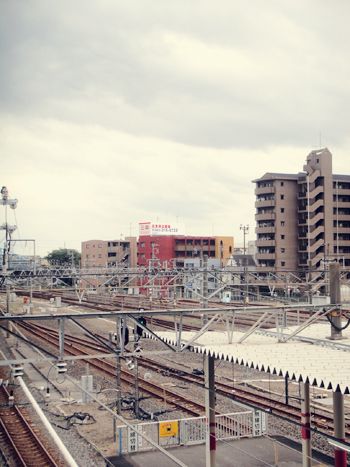 STARRING IN MY OWN ANIME THIS SUMMER 2014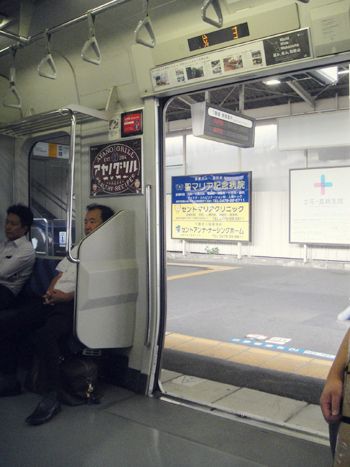 i duno i probably took this shot for reference or something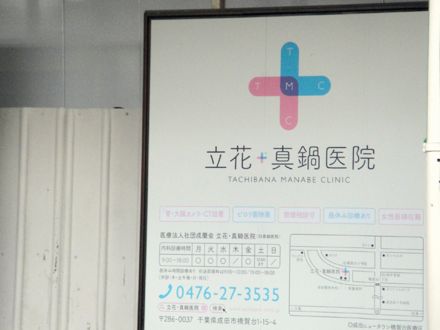 it says tachibana manabe but my mind read it as TACHIBANA NANASE (/cries tgt w all the makoharu fans)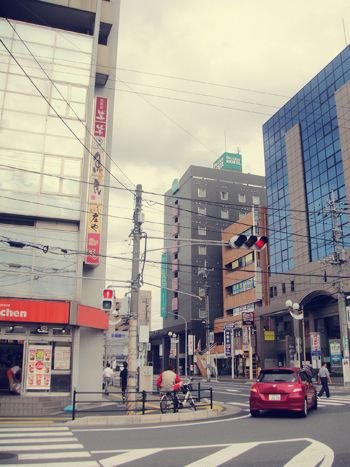 we stayed at this dormy inn hotel (black building), which was pretty neat.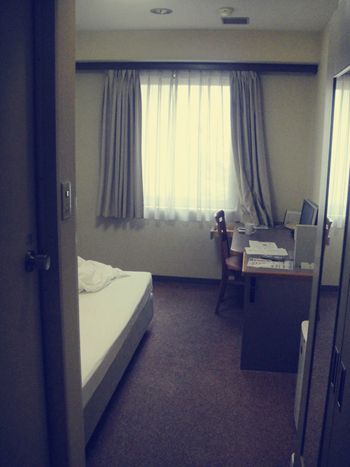 i never stayed alone in a hotel room before, and it was actually kinda rad.. /spreads toiletries everywhere n disregards cleanliness
i took ten fucking ages to figure out how to operate the light switch HAHAHAA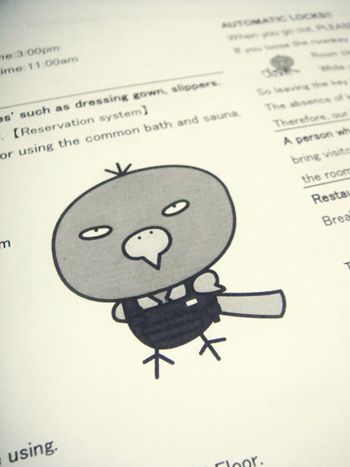 the mascot of the hotel is actual iwatobi-chan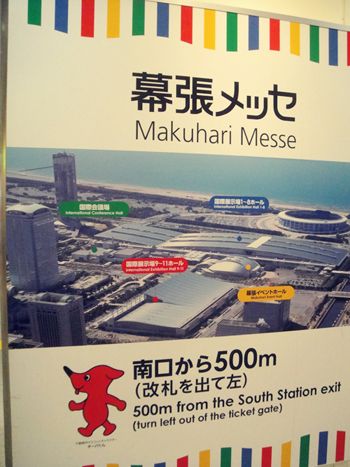 FOR THE LIFE OF ME FOR 3 DAYS I COULDNT PRONOUNCE IT ANYTHING OTHER THAN MAKOHARU MESSE
Ruronin Kenshin at his day job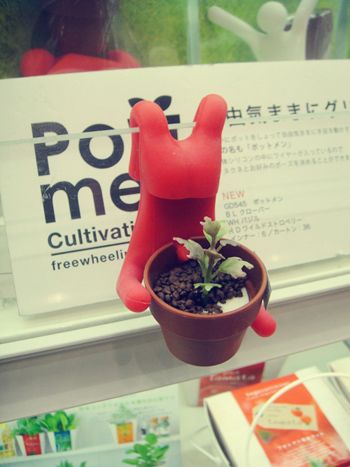 /WANTS
i duno it looks like the ass is where the crotch is supposed to be..?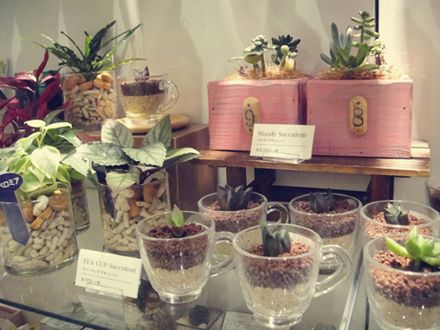 /MUFFLED CRYING i need these i need these i need these but im p sure plants are not allowed on planes ;__;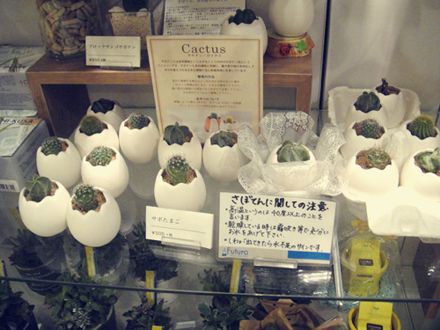 these are pretty reasonably priced..! UNLIKE FUCKING SG WHERE IT TAKES AN EYE AND A LIMB TO PUT A CACTUS IN A POT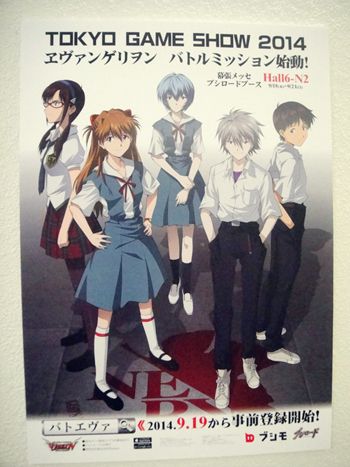 STARTING FROM the exit stairs at Kaihinmakuhari station, where TGS is held like a forever walk away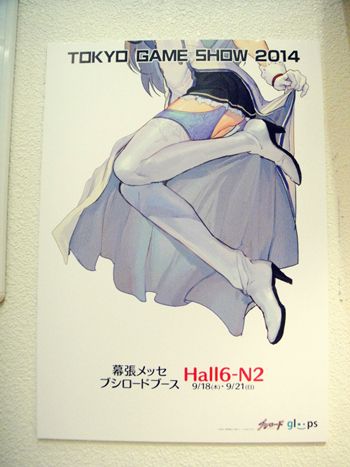 these were here too, as u go up and down these steps...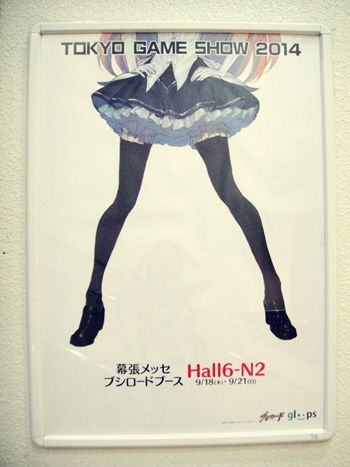 UPSKIRT SHOTS..??
FOR THE FUCKIN PERVERTS WHO ATTEND TGS YEAH!!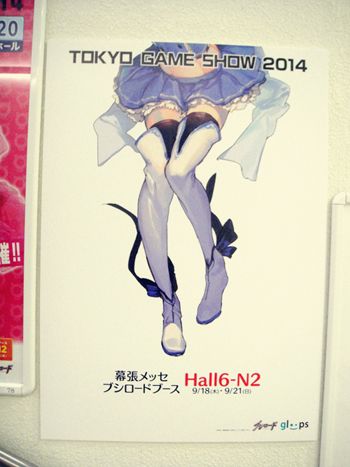 they know EXACTLY THE KIND OF PEOPLE they are catering to i love it
i absolutely ADORE the coloring i MUST learn it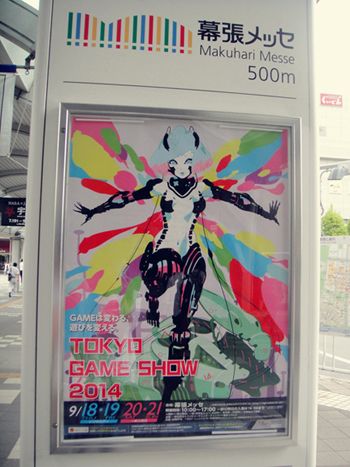 there u have it, a 500m walk to the actual convention hall
BURN THOSE OTAKU FATS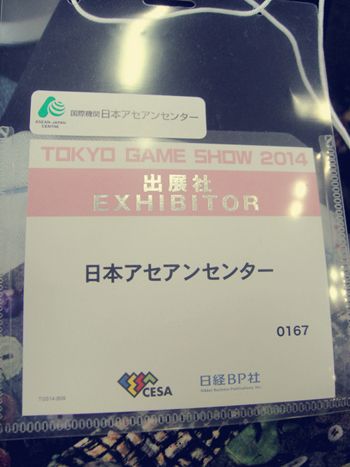 GOOD THING WE HAD THESE AHAHAHAHAHAA
seriously the BEST event access pass i ever had the privilege of hanging around my neck
MY GUNDAM SENSES ARE TINGLING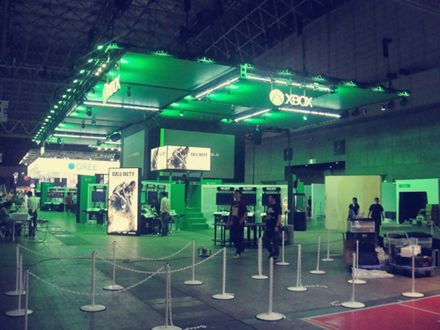 there's no one cuz this is set-up, the evening before the business days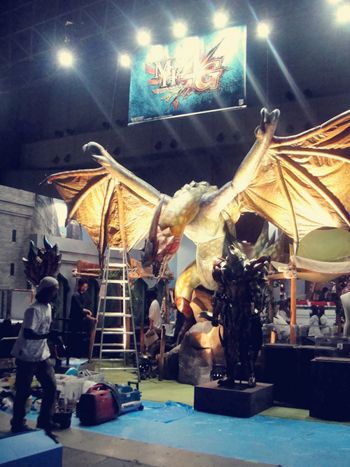 I GET TO SEE ALL THE FUCKING THINGS BEFORE PUBLIC EYES UGGHH THE PRIVILEEGGGEEEE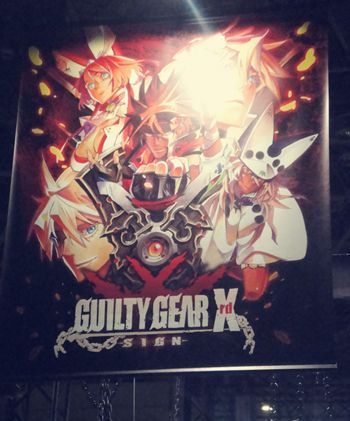 they had like, showgirls here dressed up in what i assume to be a mega slutty version of Sol's outfit?? and they had to pose all day for perverts so. i hope they get paid FUCKIN TONNNSSS. you don't see the big guns (capcom, squeenix, konami) having scantily-clan showgirls and i think thats saying a lot, tbh.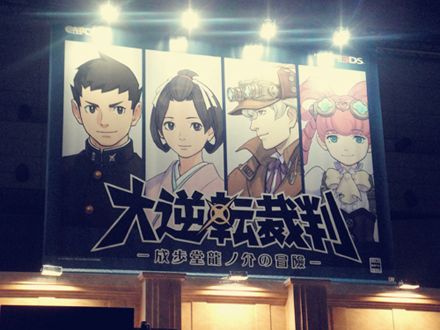 WHERE WHATS THIS FUCKING GAAMMMEE I NEED IT FUCKIN SLOTTED IN MY FKING 3DS RIGHT NOWWWW
i didnt go play the demo cuz it will PROBABLY involve a lot of reading IN JAPANESE /LAUGHS NERVIOUSLY
if im not mistaken this is about Phoenix's ANCESTORS?? AND IF IT LOOKS LIKE SHERLOCK IT IS FUCKIN SHERLOCK YES THE GUY GETS CALLED IN FROM ENGLAND OR SOME SHIT I DUNO
u playin w my heart, Sony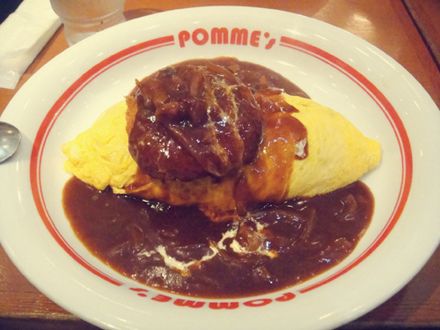 FIRST MEAL IN TOKYO YAASSSS the most fantastic omurice ever and they come in sizes SS to XXL which makes it perf any kind of eater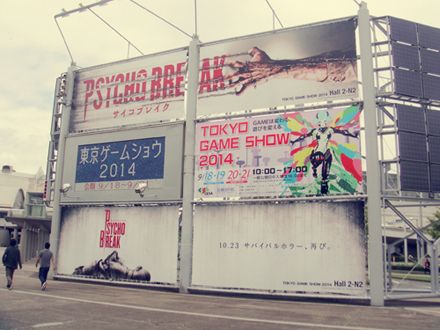 the walk to Makoharu Messe on the first business day was like FKIINGG EXCITIINNGGG
the weather was PERFECT its like the melding of summer to autumn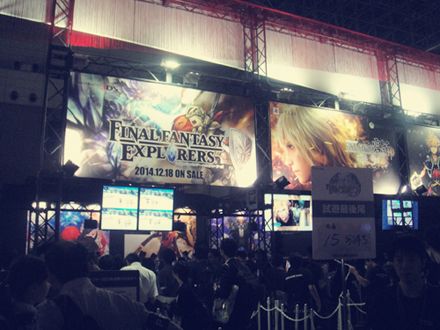 OMFG OK WAIT FOR IT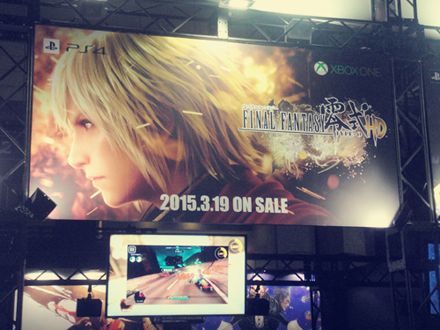 /HIGH-PITCHED SCREAMING x90000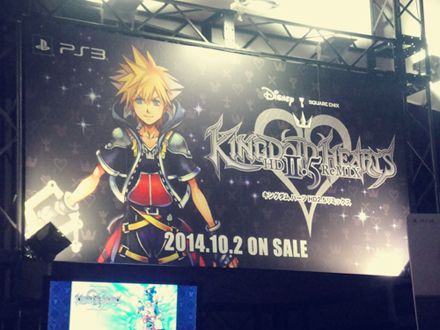 I PLAYED THE DEMOS OH GAWD I-I-I-I-I
/WAITING N SALIVATING FOR MY TURN AT TYPE-0
OMFG if not for final fantasy 15 maybe i will buy the PS4 for type-0 cuz its RAAADDD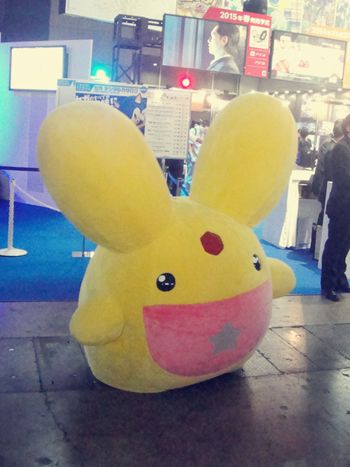 THAT WAS ONE VERY SMALL CHILD IN THERE I SWEAR THIS THING WAS LIKE AT MY WAIST
h-HELLLOOO /FRANTICALLY WAVES AT ALL CUTE ANIMALS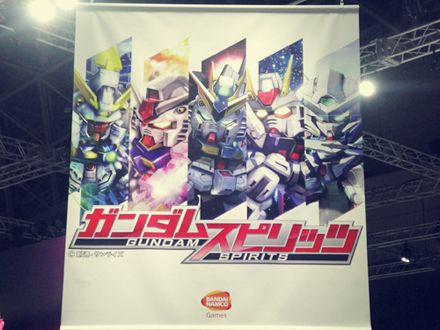 painting so good it is THIS CLOSE to making me wanna draw a gundam. CLOSE BUT NOT CLOSE ENOUGH
there are like 3 halls of TGS goodness and the last hall is the merchandise area (you shoulda seen the people literally FLYING TO THIS HALL when the TGS doors opened on public day. FLYING) BUT I WAS THERE ON BUSINESS DAY SO AHAHAHAHAA
i could take pics, buy things, no long queues, wander about, without killing anyone in the process!!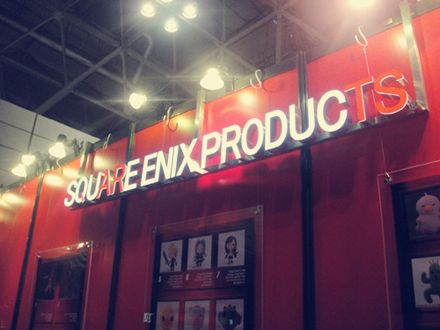 /BLACKS OUT FROM MEGA STARSTRUCK
first stop on my list!!
/strokes Cloud poster and gets embarrassed look from squeenix staff
japanese people will feel more bashful than u in any situation i feel like i can do anything here and get away with it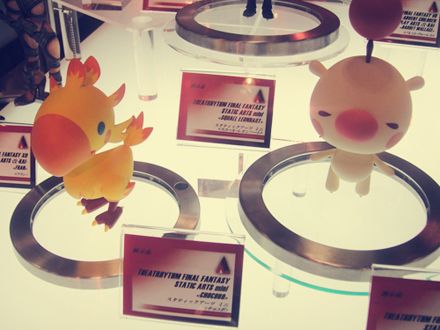 NAHAHAHAA i got the phone strap versions of these!! some things in life are just too cute to pass up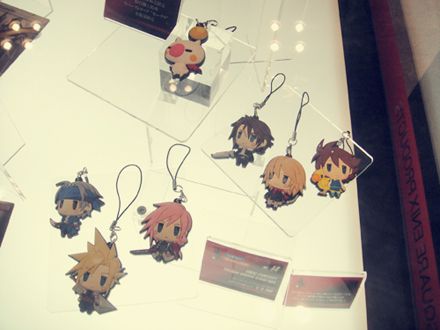 ok i took like a MILLION YEARS contemplating if i shoulda gotten these cuz these are EFFING CUTE and i love all the characters in the whole set (RARITY, MUCH?) but i never buy rubber charms cuz...I DUNO the taste of rubber doesnt appeal to me how am i gonna happily lick these after they're bought??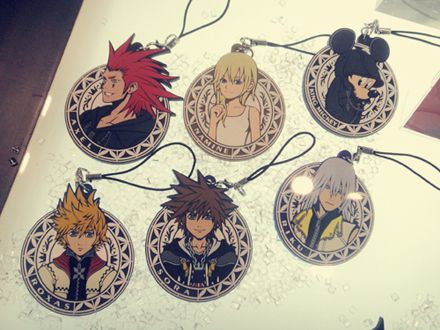 oh gawd this reminded me of how obsessed i was with the KH pairings like 4 years ago maybe
I WANTED
TO GET KAIN AT TGS BUT
HES A PLAYART HE MOVES I DONT WANT TO PAY $100 MORE FOR HIM TO MOVE
I JUST WANT HIM POSED AND STILL AND IN ALL THAT BEAUTIFUL ARMOR sighs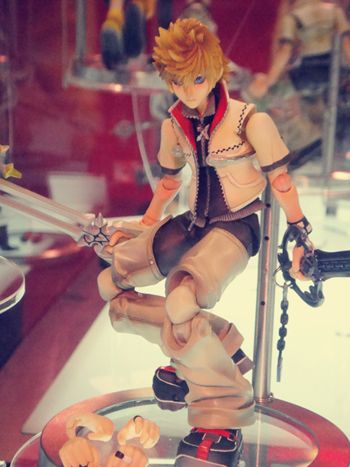 the movable figure is not my thing though i just get irked when i see the ball joints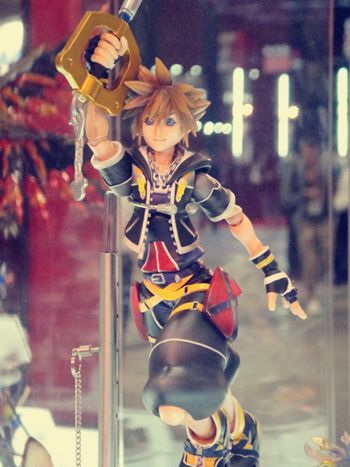 pose-able shotas for your pleasure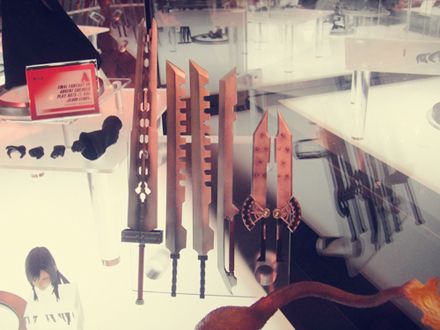 YOU KNOW WHOS COMIN
SQUEENIX POSTER BOOOOYYYY daammnn u lookin finer n finer every year they come up w a ff7 spinoff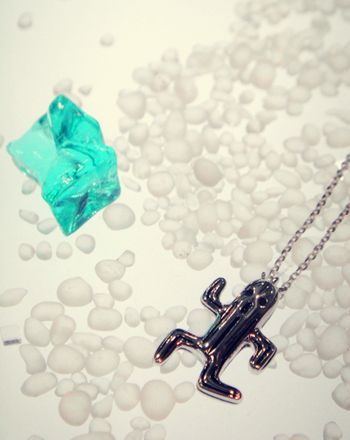 /INTENSE WANTS FOR THIS STUPID THING
all these damn jewelry cost soooo muuuccchhh i wish one day i wld be big enough to make random jewelry that my characters wear, lol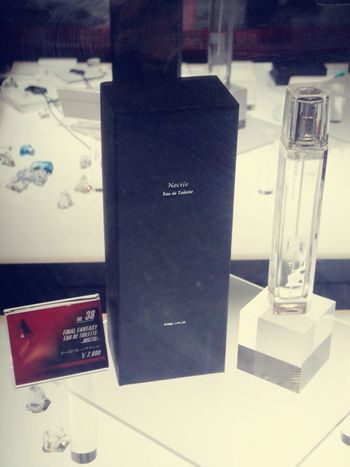 AHAHAHAA NOCTIS COLOGNE
SMELL LIKE A FUCKIN PRINCE TODAY! FOR THE PRINCELY PRICE OF 7000YEN ONLY!!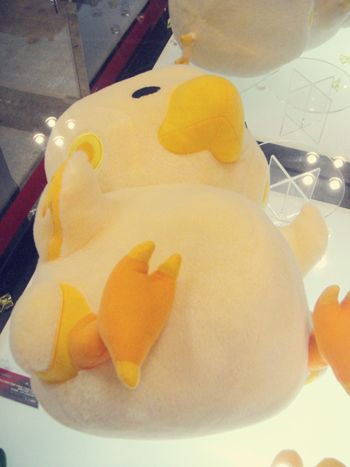 THE FATTEST TEMPT AT SQUEENIX SHOP FOR ME
BUT THIS FUCKER COST LIKE WHAT 7000-8000YEN I CANT RMB
they are their own freaking record label gawd some franchises are too legendary
FOR YOUR EMERGENCY HENTAI NEEDS (AT WORK)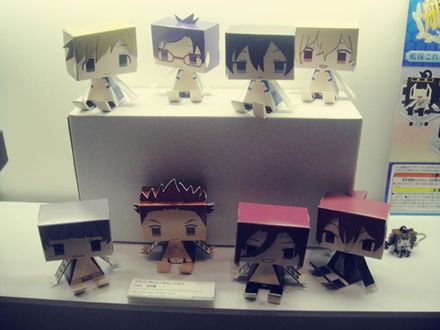 AND I THOUGHT I WLDNT SEE ANY FREE! STUFF AT TGS
BUT WHY THE BOX THING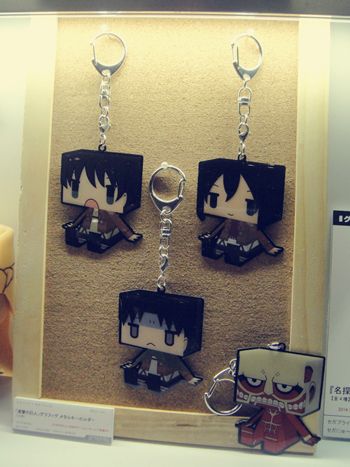 better quality box things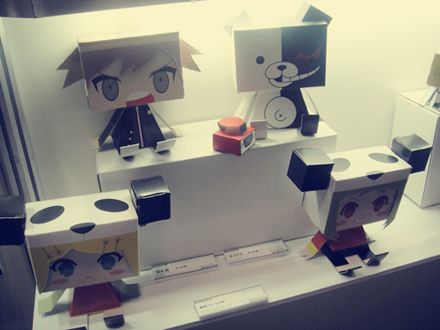 quite frankly i'd rather get a coin figure aahahaa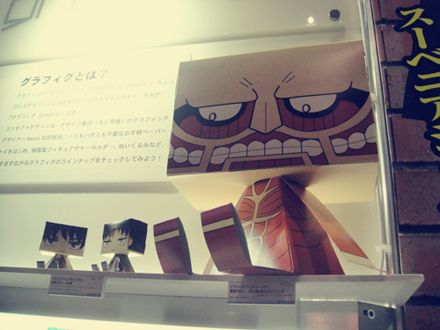 KYOJIN-KUN U SCALED THE WALL YAAAYYY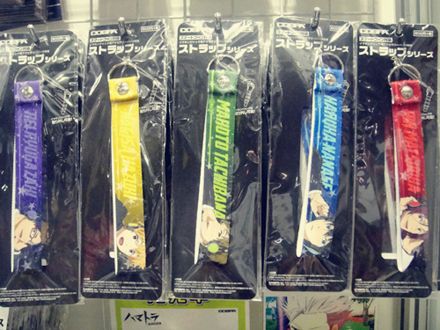 A RANDOM ANIME SHOP FOR THE WEEABOO IN YOU
MAKOHARU MESSE
AAAHHHH i needed a towel but i wish they didn't cost like $40sgddddd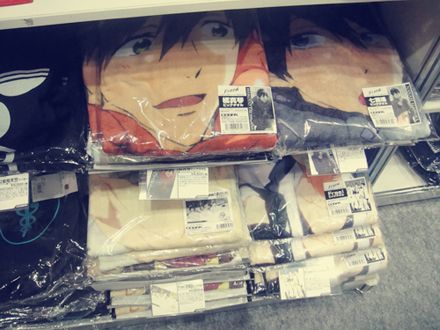 i duno i found it slightly creepy and hilarious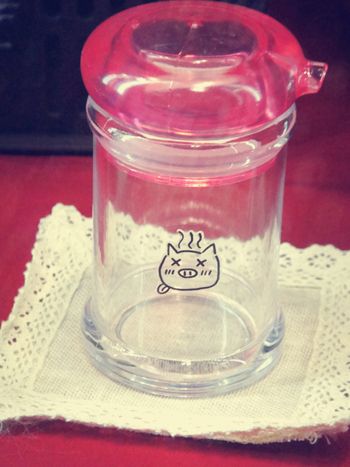 duno where this comes from but i liked the pink cap and display!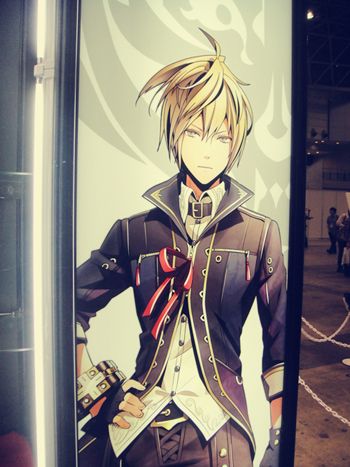 OK I SWEAR THIS IS MY CRISPEST PHOTO IN THE 3 DAYS OF TGS CUZ ITS SO DIM INSIDE I ALSO HAVE NO CLUE WHERE THIS IS FROM BUT I WANTED TO SHARE MY SHARPEST PHOTO NO MATTER WHAT
lunch was prawn and wasabi sammich at SUBWAAAYYYY something we certainly don't have here in sg but i'd LOVE FOR IT TO COME HERE TOO PLEASE PLEASE
HEY SEXY
I LIKE THE WAY YOU'RE PAINTED (how to hit on 2D men 101 by me)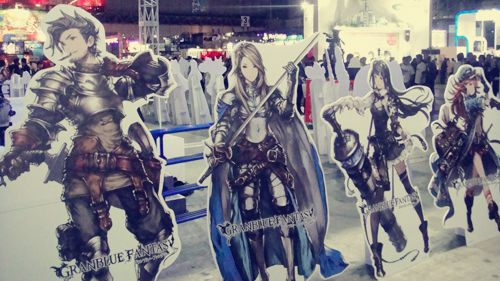 all these damn games and their fabulous character art SOMETIMES I BUY A GAME JUST CUZ THE FKING CHARACTER ART SUCKERED ME IN
AND THIS IS GONNA BE ANOTHER ONE
some cool shit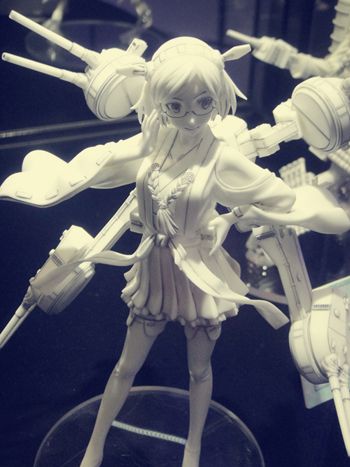 lookit that MEGANE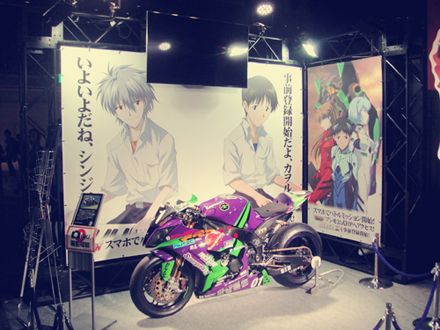 OOHH. OH OH OOOHHHH.
i wonder who gets to ride this motherfather around Akiba all night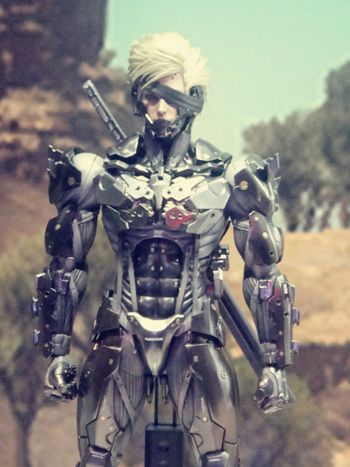 I BE ALL OVER THAT
IF HE DIDNT HAVE BALL JOINTS
Konami is FKING BATHING IN GOLD to be giving these high-quality shit out for free.. they LIGHT UP and mine still is lighting up ahahahaa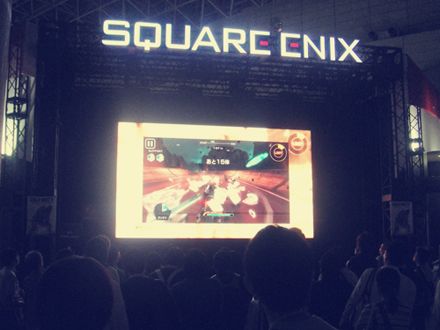 omfg not ANOTHER FF7 spinoff
that i have to get my hands on
the Cloud and fenrir thing is super rad
OKAY SO LIKE I MISSED THE FUCKING FF15 GAME DEMO PREVIEW LIKE WHERE THE FUCK WAS I
BUT I WAS EXCITE AS FUCK WHEN THIS TRAILER WAS SHOWN i think i watched it like 10 times while i was there
fucking NOCTIS u are a FKING LATECOMER and i am STILL waiting to play your pretty ass after 872356875 years
I HAVE SEEN ABSOLUTE BEAUTY WITH THESE EYES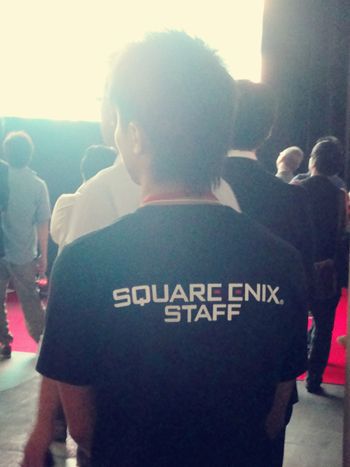 /RIPS SQUEENIX SHIRT OFF OH SORRY DUDE THATS ACTUALLY MINE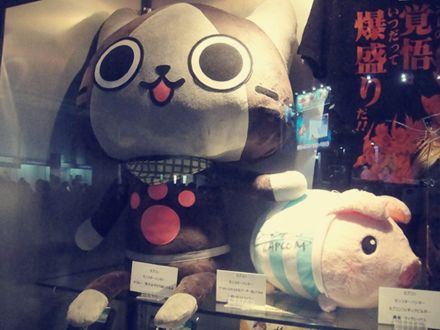 pairing of the year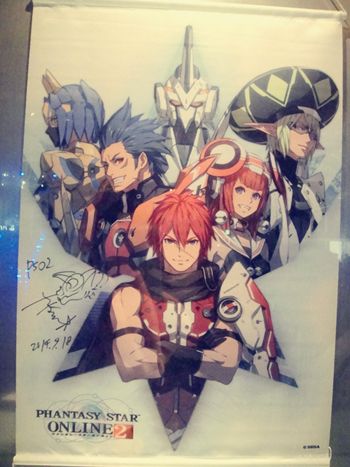 anything with a damn signature from the creators: fan fodder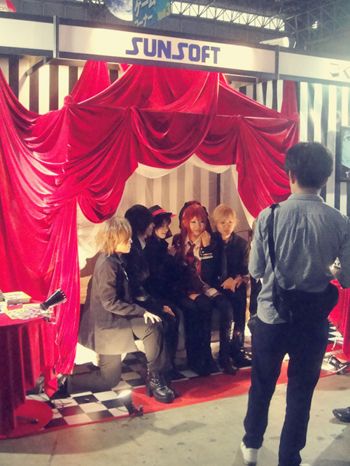 OK THIS IS THE FUN BIT THIS IS THE BL/OTOME GAME BOOTH AREA lookit all the girls cosplaying as the dudes lol (why no real men tho i'd like to see actual dudes w dicks doin this)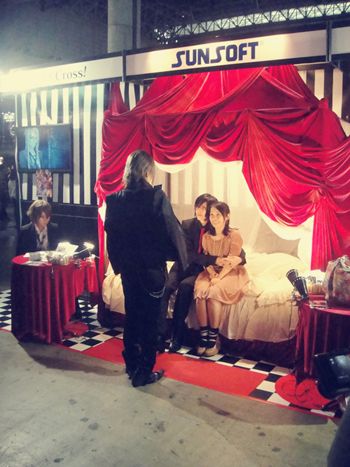 so like..i suppose u get to play out SCANDALOUS scenes that u prepare for beforehand to get your maiden heart all doki doki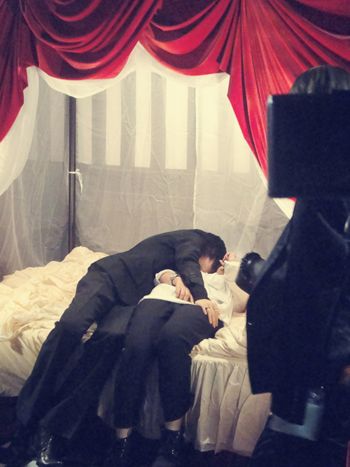 I WOULDA BEEN SHOCKED AS FUCK IF THE COSER SUDDENLY PUSHED ME ONTO THE BED TOO LIKE WTTFFF THIS ANGLE IS SO AWKWARD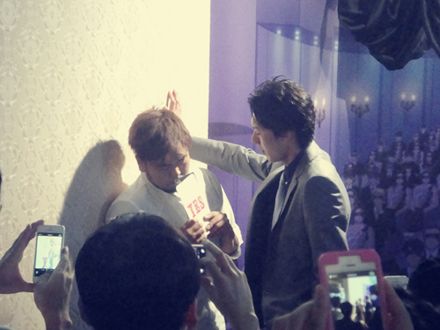 AND U ALSO GET TO PLAY THIS KABE-DON SCENE W THIS DUDE (suited one) like i TOTALLY UNDERSTAND THE APPEAL its just that the guy isnt that fantastically hot or anything
A FAVORITE BOOTH FOR THE AVERAGE SALARYMEN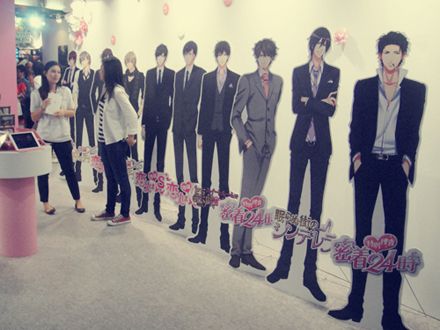 i'd much rather like to see these guys all over one another instead of me ahahhHAHA
final fantasy for the Xperia!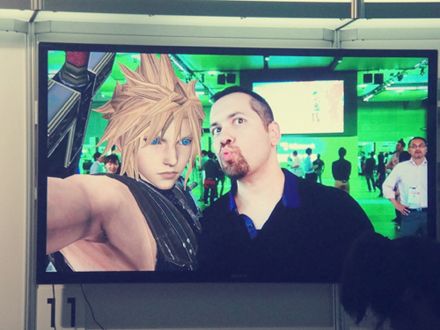 I SHOULDA DONE THIS BUT I WAS ALONE N I DIDNT HAVE THE GUTS TO LAUGH AT MYSELF ALONE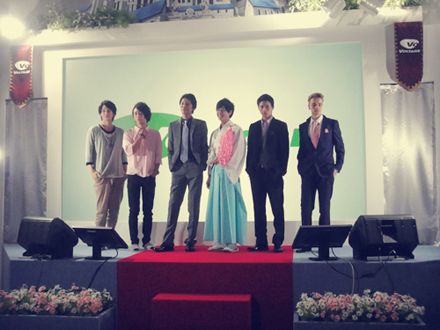 AND THE TITLE OF MR AND MR BOYS LOVE GOES TO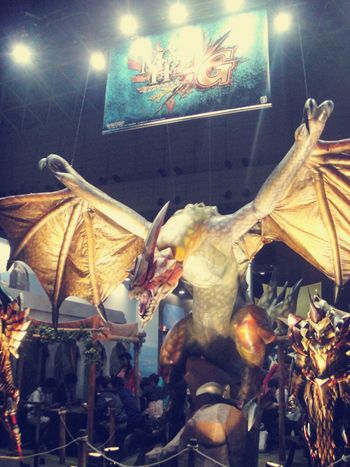 RAAAAADDDD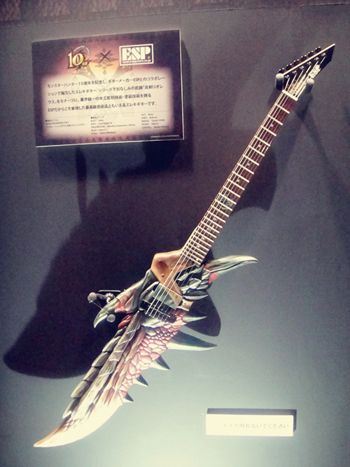 i can imagine that one crazy fanboy spending his one year salary on this shit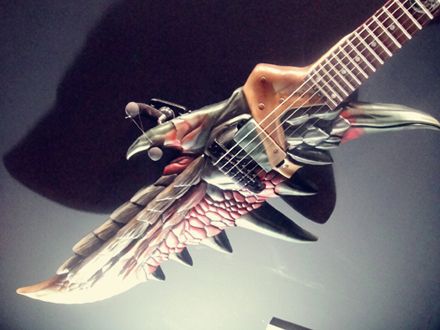 lookit the fkiingg....ommggg
merchandise level over 9000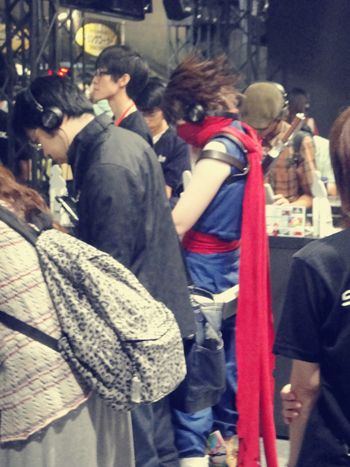 Strider (?) at squeenix game demo booth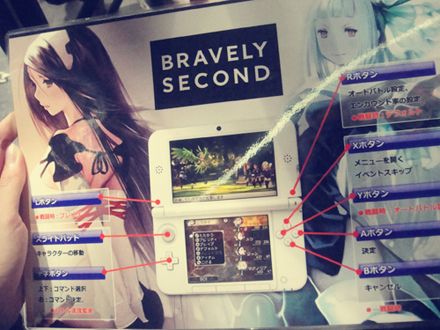 last game i played on the public day was the sequel to Bravely Default! (WHICH I NEVER PLAYED)
i think i'll save money for it after im done with prof layton vs phoenix
SO LIKE
THANK GAWD WE WERE THERE DURING THE BUSINESS DAYS CUZ THIS WAS THE SIGHT THAT GREETED US AT KAIHINMAKUHARI ON FIRST PUBLIC DAY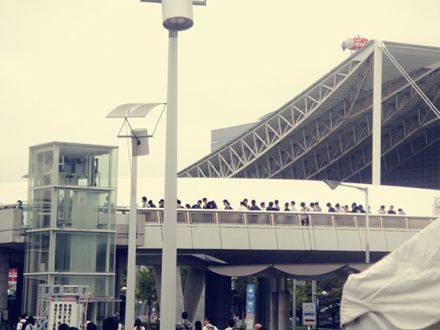 there's no effing way this isn't a big deal
they even had like an AMBULANCE parked nearby for that one over-fangasmed fanboy/girl
/CRIES BUCKETS
WELL THATS IT! i traveled to inner tokyo for all the animu after that..!
to be continued...
the journal was too long, and i definitely wanted a seperate entry for TGS itself cuz it deserves it!! Hope you all enjoyed looking at the pics as much as i did taking in all the TGS goodness!!
Next up, NAKANO, IKEBUKURO, HARAJUKU, SHIBUYA, and more!!


Watch