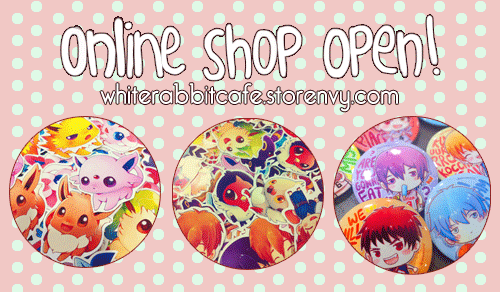 (ノ◕ヮ◕)ノ*:・゚✧ Hey yo!! So i recently opened an online store in Dec for those of you who're interested in getting my merchandise but could not attend the conventions i go to~
Visit the store here!
Do check it out if you're interested in getting some of my stuff for yourselves or as gifts for others! i'll also be happy to sign prints if so requested (: so yea! for those of you who did not manage to get a commission slot from me this time, perhaps u'll be interested in some of the stuff i've already done, so do have a look! \( 'з')/ there's quite a number of stuff from my gallery available there, and others i don't post here on dA.
I'm planning to ship all orders by the
end of Jan
2014, so the shop will be closed after CNY, until i come up with some new merchandise (:
Thanks for dropping by! (*≧▽≦)
i will be opening commission slots again after the current batch is done, so those interested in checking out the status of the commissions, pls go
here:
circus-usagi.deviantart.com/jo…
! (:
HAVE A GREAT DAY!